Field Turf Product Information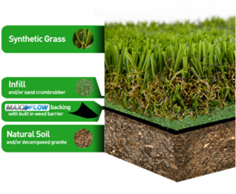 FieldTurf is a revolutionary artificial turf that is installed by Heavenly Greens in Northern California. FieldTurf artificial grass was designed with a single goal in mind: to provide a surface that duplicates the look and feel of real grass. After years of research and development, and hundreds of tests, FieldTurf succeeded. They have created a synthetic turf unlike any other.
It looks like grass, feels like grass and plays like grass! FieldTurf is dramatically different from traditional artificial turf. Instead of a dense, abrasive rug, FieldTurf's fiber surface is soft and silky—like new blades of grass in a spring meadow. FieldTurf's artificial grass fibers are surrounded and stabilized by a special blend of "synthetic earth." FieldTurf's patented mixture of smooth, rounded silica sand, and rubber granules made of re-ground recycled tire material.