Select Blend Monofilament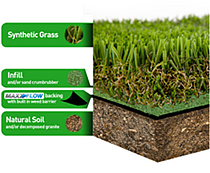 Modern day artificial turf products serve many purposes and design functions that go far beyond the standard athletic field application. From lawns to rooftop terraces, playgrounds to pet parks, we can provide a system to fit nearly every need.
This is our Select Blend product. Select Blend is a monofilament yarn turf with a Field and Olive green color mix. The blades are nearly 2" long which includes a rigid fiber technology that adds more resiliency and durability than some traditional yarns. One of the best features of this product line is the proprietary MAXXFLOW backing that is integrated into the primary backing. The benefit you receive with the MAXXFLOW backing is that rainwater and other liquids will immediately permeate through this product similar to a coffee filter, keeping the surface dry and cleaner. This product will drain 4-5 times faster than the industry standard. This becomes even more important if you have pets using the surface.
This system is typically top dressed or "infilled" with a washed silica sand and cryogenic rubber infill which provides ballast and cushion to the surface. Once installed this system will feel very much like a natural lawn and as you can see in this installation, looks absolutely amazing!