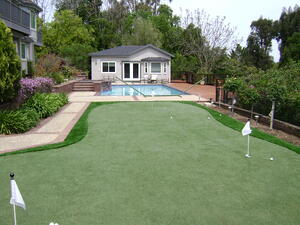 Golfing is a great way to relieve stress, enjoy the company of friends and spend a relaxing time outdoors. But it costs money to go to golf clubs, driving ranges charge you by the ball, and there seems to be an endless amount of golfing attire out there to purchase.
No matter how cheap the rates are at your local golf course, though, nothing beats doing it for free. How to achieve such a feat? Build your own putting green! It might sound a little crazy, but it's actually quite simple. Just think: If you've invested so much in the right clubs, equipment, memberships, and all the other expenses that go along with being a golfer, doesn't it make sense to invest in your skills too?
Convenience
A backyard green is perfect because you can golf whenever you want. You don't have to get up at the crack of dawn -- in fact, you can play golf at three in morning if you want. You wouldn't be able to do that down at the course! You're totally free to practice your skills for as long as you want, any time you want.
Cost
The biggest obstacle to having your own private practice area is obviously the price tag. You'll have to invest in some green if you don't already have any. The good news is that advances in synthetic turf technology have made it possible to install your own putting green using artificial grass. You don't have to cut, water, or fertilize anymore!
Artificial turf might sound, well, a little artificial. But let's look at the benefits: you don't have to care for it, it's always the perfect height, and it's more environmentally-friendly than having real grass.
If you're looking to improve your game by installing synthetic grass, Heavenly Greens is the first and last place to look. We use NFL-quality FieldTurf that will withstand foot traffic for years and years, and you can shape your putting green any way you want. Check out our website for demonstration videos and more information!