Premium Putting Green Service
Your putting green's surface has to be perfect in order to give you the quality practice you want. If you see that moss has started to encroach on your green, it's time to take action. Calling in the Heavenly Greens will restore the appearance and play of your putting surface. This package includes all the services available in our Premium Putting Green Tune-Up in addition to moss treatment.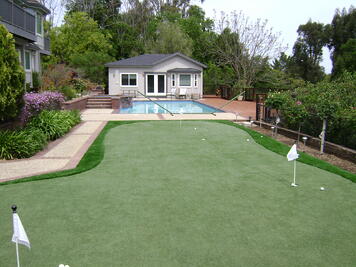 Our Premium Putting Green package includes:
Debris removal
Brush out moss (must be dry)
Infill inspection and refresh
Service putting green surface material
Inspect edging for sinking/settling and perform minor repairs
Roll putting green surface
Top coat with sand
Apply salt and vinegar moss inhibitor treatment
Power brush green and fringe areas
Final Stimpmeter reading
$675, covers up to 750 sq. ft. (recommended every six months)
We can usually complete this work in a single day, though in some cases the moss removal may require a second visit. When we're finished, your fringe and putting surface will look fresh and inviting, and ball roll will be restored to the professional-level experience you desire.
Schedule an appointment today